Reflections on a month spent in ski boots
For mountaineers, Chamonix is the Mecca - the place where it all started, where the triumphs and struggles of alpine pursuits were discovered, where any serious climber must travel at least once in a lifetime. Over a century before Everest was conquered or the Camp 4 hooligans charted first routes around Yosemite, Chamoniards and their guests pioneered numerous alpine techniques. The first Winter Olympics were held here in 1924 and many winter sports owe their origins to the mountain village. Every summer, thousands of tourists summit the area peaks and trek at this junction of France, Italy, and Switzerland. Every winter, the mountaineering continues, but this time with the goal of skiing untouched powder.
Despite its pedigree, it's rare that I come across American skiers who have made a visit to Chamonix. Those who brave the intercontinental flight usually go for the resort treatment in Verbier or Zermatt (Switzerland), or elect for a weekend of the après ski scene in Val Thorens.
This winter, I lived in Chamonix Valley for a month and logged 19 days on slopes. I implore you to make a visit at least once. The place was unlike any ski area I've ever visited. It's a community dedicated to the raw experience of powder and steep skiing over than the pampering of a resort town.
The Unique Appeal of Chamonix
Absurd Geography
In the shadow of Mont Blanc, it's impossible to gaze at the glacier-chiseled peaks without feeling a tingling of mysticism. The town sits in a narrow valley at ~3400ft and is flanked in the south by the Mont Blanc Massif (15,781 ft with ski access up to 12,600 ft) and in the north by the Aiguilles Rouge (ski access up to 8200 ft). Lifts and pistes come all the way down into town. There's no way to separate the town from its environment. Walls of granite seem to sprout up from the town itself.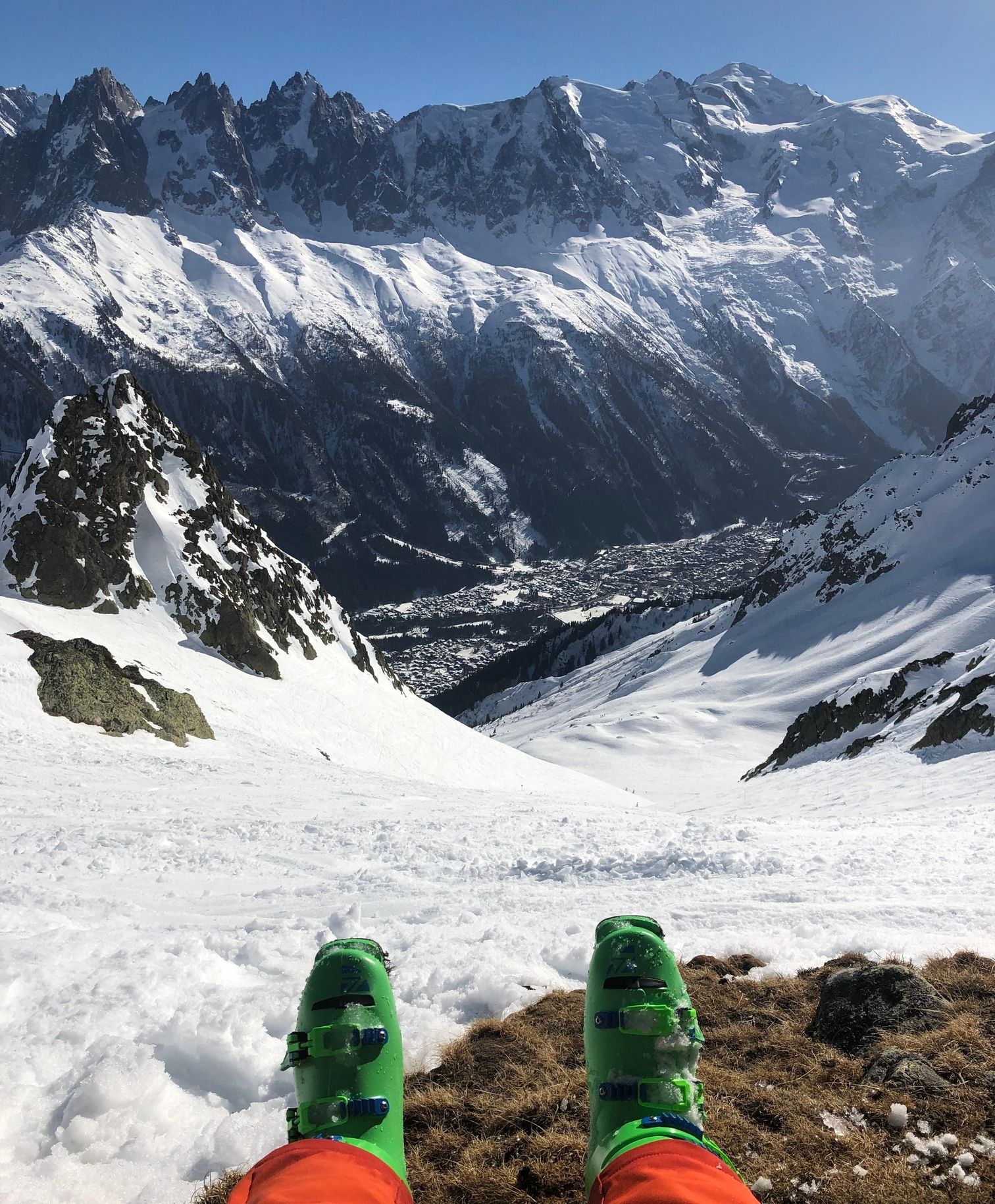 The treeline in the Chamonix valley hovers around 6500-7000ft, compared to ~12,000ft in Colorado. This makes for markedly different skiing. Instead of groomed runs carved through trees, pistes in the Alps tend to take the shape of a narrow, poorly-marked zig-zags through massive snowfields. For example, the famous ski area of Grands Montets (shown below) features 8 lifts servicing only ~12 runs (?!) but over 7 square miles of skiable terrain, not counting backcountry access. Getting off the trail is the name of the game in Chamonix.
Ski the Steeps!
Multiple ski lifts in the Chamonix valley are intented purely for backcountry access. The most famous takes you up to the Aiguille du Midi, from which intrepid mountaineers and skiers can strap on crampons and rappel down to attempt 50°+ couloirs (no groomers in sight).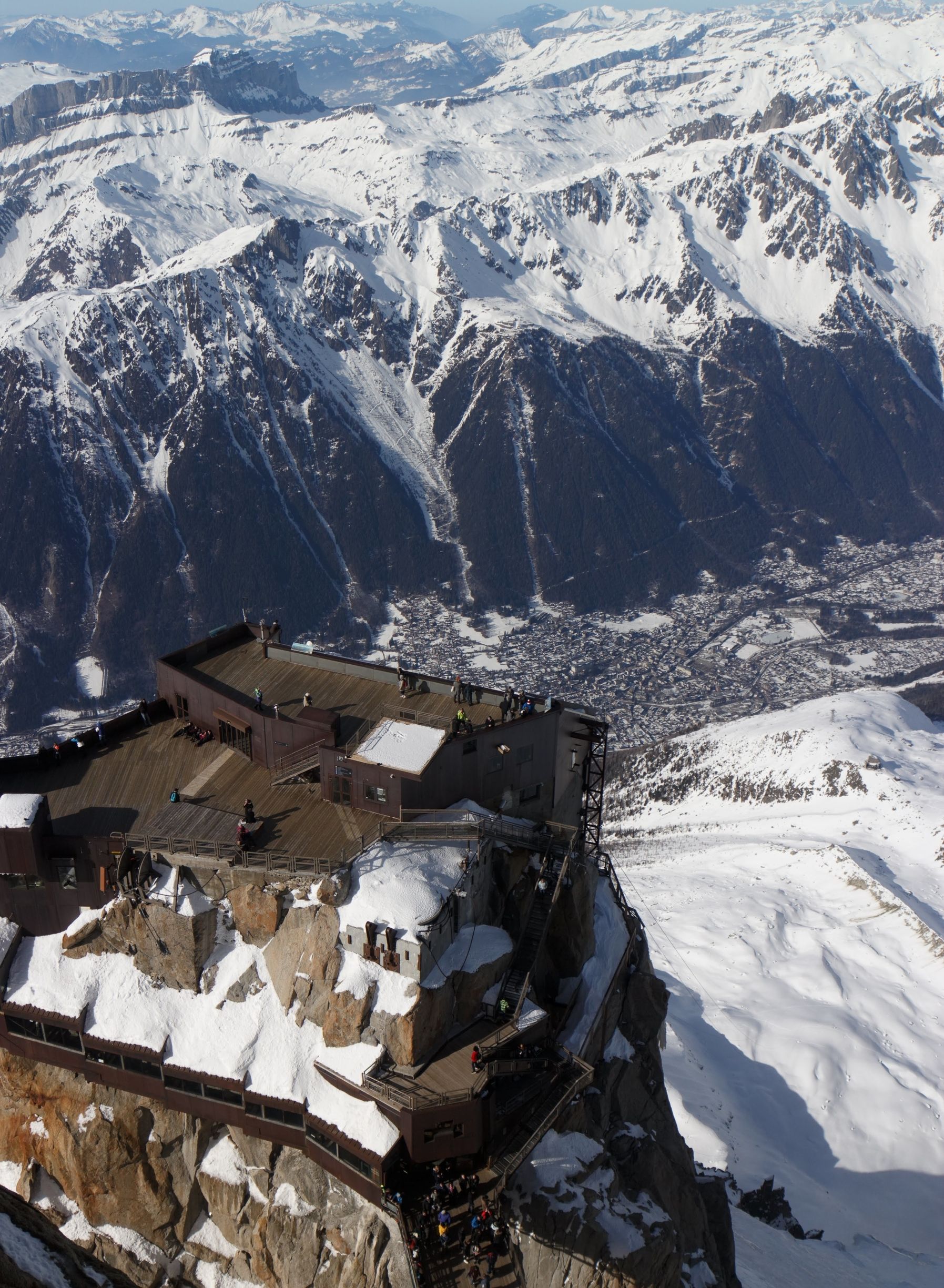 For more sane entertainment, hire a guide and ski the 12.5 mile, ~9200 ft vertical descent of the Vallee Blanche. Almost the entire route takes place on glaciated terrain without human infrastructure in sight. Avalanche and glacier safety is paramount in Chamonix, so don't think of doing it alone.
As an American, I noticed a few quirks about ski etiquette. First, speed is king in Chamonix. And yet, you will get chastised for recklessness. The folks here take a self-reliant approach to safety on the mountain and know that if you fall in a crevasse or trigger an avalanche, they're going to be stuck digging you out. Second, these people will slam down the chairlift bar before it's out of the station. There's something comedic about knowing the people around you enjoy skiing off cliffs with a parachute on (speed riding, look it up!), but can't wait 10 seconds to lower the bar.
Ski Multiple Countries!
A feasible itinerary is to ski in three countries in the same day.
Wake up in Chamonix, take the bus through the Mont Blanc Tunnel to the Courmayeur ski area in Italy.
Return the same way then venture over to Le Tour using the same ski pass.
Catch a lift up or do a sunset ski tour up to Tête de Balme & Croix de Fer on the border of Switzerland.
Ski down to Trient, Switzerland then bus back to Le Tour
Oh and did I mention - lift passes in the Chamonix Valley will set you back around $60 a day. It's a  welcome relief from the $140+ fees charged in some parts of the U.S.
The Fashion
No fur trimmed jackets, swanky sportcoats, or designer ripped jeans to be found here. Despite some obvious wealth in the valley, the focus is on utility: high-end synthetics reign supreme. I bring this up to convey that Chamonix is a town that takes their winter sports seriously, and takes pleasure in the raw experience of winter sports rather than ostentatious displays of status (looking at you Deer Valley and Aspen).
There were powder days where I observed at least 30% of people wearing airbag backpacks. And it's a common sight to see folks wearing harnesses and avalanche transceivers at outdoor bars. You roll your eyes, yet it doesn't have a pretentious feel, more of a "we just rode down that 48 degree slope on the mountain across the street and wanted to grab a beer".
The Community
This town isn't packed full of high-rise condo buildings, nor dilapidated ski huts. It's a thriving town year-round (even more popular during the summer!) filled with passionate people. Most people I met were there for at least a month, often longer. They care about the community and want to make sure that it's always welcoming of people who love the thrill of adventure and yearn for the mountains.
My visit to Chamonix certainly won't be my last. Make a visit, and feel free to reach out for advice!