Becoming an Estonian e-Resident
"Matt, what the heck is an Estonian e-Resident?"
Reactions to the news of my e-Residency status played out in similar fashion for a few days after my announcement. Despite working in the tech scene, only two of my friends expressed any recognition of Estonia's program and I quickly became a de facto brand ambassador. This post originated out of a desire to more fully articulate what the program allows and (more importantly) its lofty goal to redefine how countries operate in the internet age.
"I am a software engineer and entrepreneur, excited about the prospects of digital society and location-independent businesses. Estonia's creation of state-level digital infrastructure is a model I hope gains a following in the near future, and the world will be better off adopting its open model of nationality and innovation. Technology has the opportunity to improve the way governments interact with citizens throughout the world and to streamline the creation and operations of business ventures. My primary reason for applying for e-residency is exploratory: as a technologist, I can participate and contribute to a worthwhile digital initiative. In the future, I also hope to establish business(es) and hope this e-residency will afford me access to some mechanisms of business within the European Union."
The excerpt above comes from my answer to the question, "Describe your main motivations to become an e-Resident" on the official application form.
The e-Residency does not confer citizenship, tax residency, or right of entry to Estonia/EU. The e-Resident smart ID card is not a physical identification document, and no, I can't set up an "offshore bank account" to get your money & bitcoins "out of reach of Trump's tiny hands." To see what led me to write about the e-Residency program in such glowing & lofty terms, let's begin with an exploration of Estonia's accomplishments.
Introduction to e-Estonia
Estonia celebrates its 99th anniversary this year, but from 1940 until 1991, it was occupied by the Soviets, Nazis, and then the Soviets again. The country's population is just 1.3 million people, with 400,000 residing in the capital of Tallinn and many of the country's residents living in small rural communities. Despite its destitute rebirth a short 25 years ago, Estonia has emerged as a hub of Europe's tech scene and produced companies such as Skype and TransferWise.
The country's IT development has been anything but accidental. Since its reemergence, Estonia has prioritized its tech sector in matters of economic policy, and followed through with commitment to its goals. The statistics1 are noteworthy:
3 minutes to file taxes, with 95% of tax declarations completed online
3 hours to start a company
1st country to adopt online voting
Most start-ups per capita in Europe
Prescriptions prescribed online: 98%
Free wi-fi network across most populated areas by 2002
Government cabinet meetings & parliament paperless by 2000 - Draft laws are publicly accessible online and laws are signed into effect on the president's tablet
Savings as a result of paperless government: 2% of GDP
Ranking: #1 Tax Competitiveness, #2 Internet Freedom, #9 Economic Freedom
The enabling technology for many of these achievements is the issuance of digital ID cards to nearly all of Estonia's residents. The chip & pin card (pictured at the top of this post) streamlines the integration of banking and public services with a robust public key infrastructure maintained by the government. The ID card enables digital identification and authentication, digital signing of documents, digital verification of document authenticity, and document encryption. In layman's terms, nearly all situations where a handwritten signature and face-to-face identification would be required can now be conducted online. Estonian law and agreements with partners across the EU mean that digital signatures and authentication have the same legal status as their physical counterparts / handwritten signatures and face-to-face identification. According to government figures at the time of this writing, digital signatures have been used 242 million times2 via the domestic program and are far more secure than handwritten signatures.
Birth of the e-Residency Program
In recent years, Estonia has faced demographic challenges of low birth rates, an aging population, and the migration of workers to Finland, the UK, Ireland, and Sweden. Such factors make growing the economy difficult, and the e-Residency program grew out of a desire to extend the country's technological advantages to people in other countries. Though I have not seen it explicitly referred to as a Platform-as-a-Service, Estonia's creation of a secure digital identity platform follows that model. The benefits are attractive:
Online creation and management of companies
Very low administrative burden (e.g. declare taxes online)
0% corporate tax (only pay taxes on distributed profits e.g. dividends)
Euro- or multi-currency bank accounts
Modern banking, with well-capitalized Estonian banks in the world's largest single economy (the EU)
Use of digital signatures to sign documents/contracts
Document encryption
And all these accrue without having to step foot in Europe
The program was officially announced in December 2014. In line with the government's embrace of transparency, applications figures for the e-Residency program are viewable on a dynamic dashboard. As of this writing, there are roughly 15,500 Estonian e-Residents, with approximately 1,000 issued to applicants from the United States. The total number of e-Residents has doubled in the last year, and the Estonian Government CIO Taavi Kotka has announced ambitious goals of 60,000 new e-Residents in 2017 and 10 million e-Residents by 2025. For reference, that is eight times the country's population.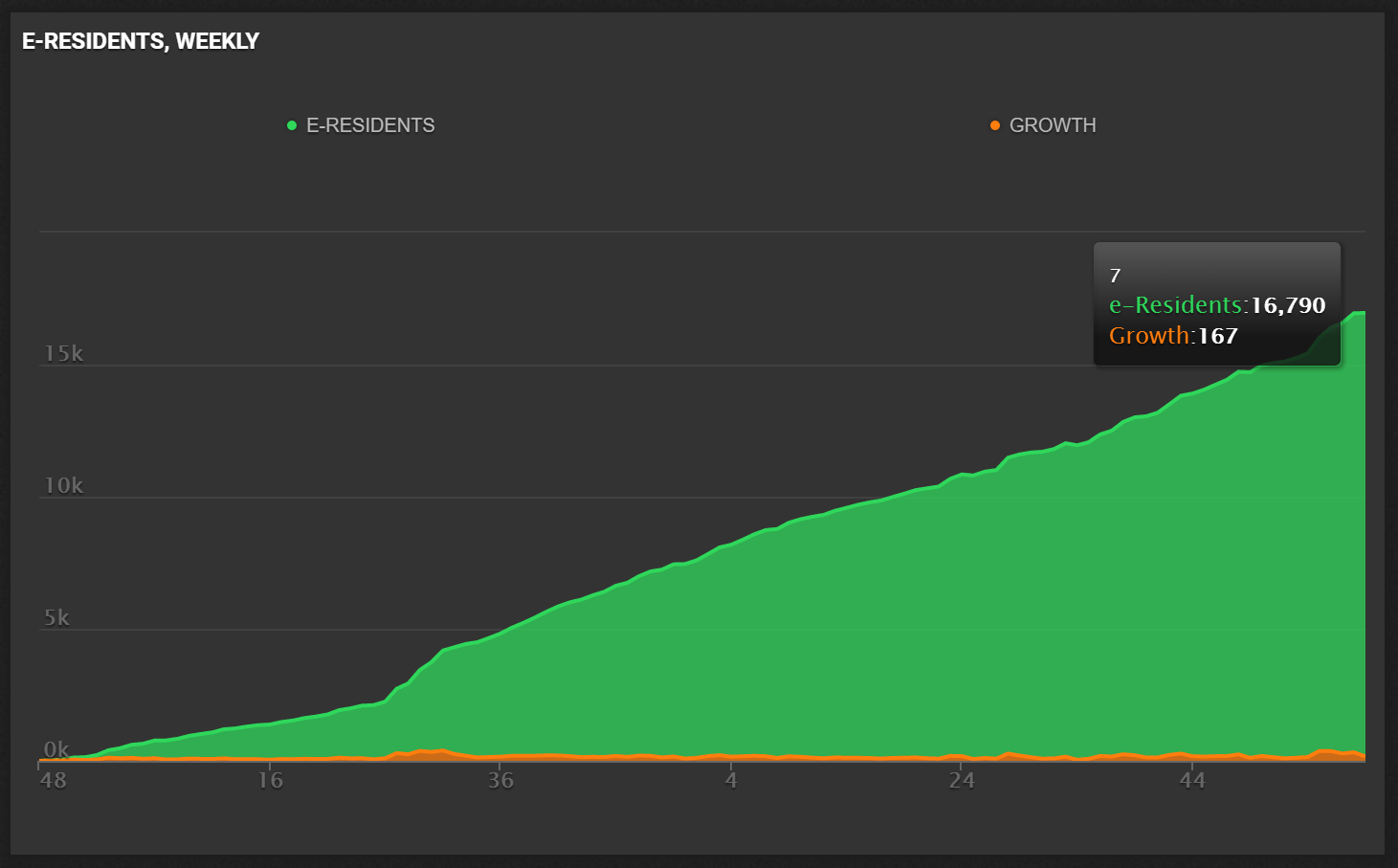 Total Number of e-Residents, weekly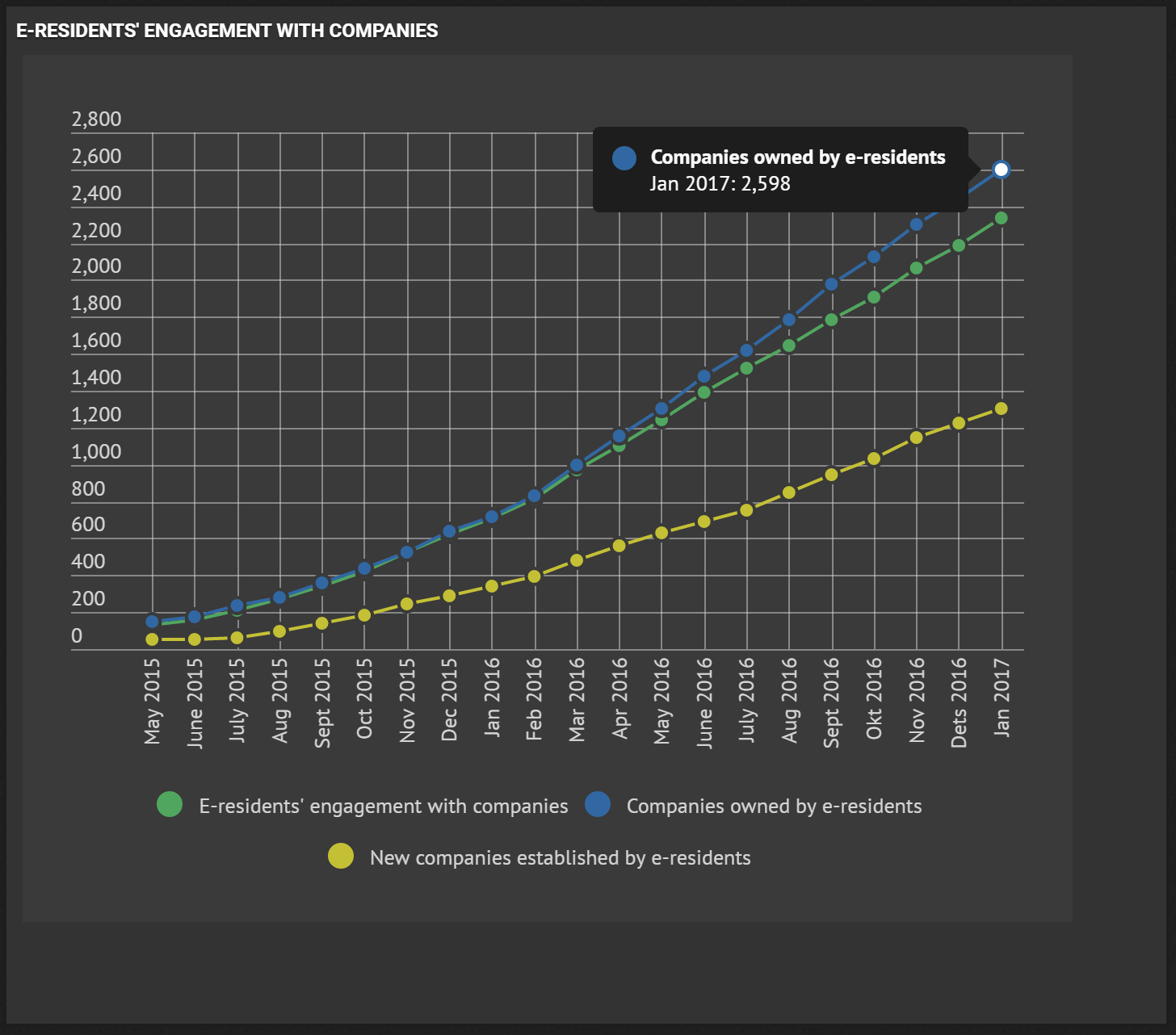 Companies Associated with e-Residents
The e-Residency program is not without obstacles and criticism. The biggest hurdles reside in the banking system, where stringent anti-money laundering (AML) and "know your customer" (KYC) rules originating abroad (especially the United States) make banks hesitant to place trust in the digital identification and authentication platform. Individuals in the US are further restricted by Foreign Bank and Financial Account (FBAR) and Foreign Account Tax Compliance Act (FATCA) requirements. Furthermore, some rightly point out that many of the benefits of e-Residency can be met with traditional international bank accounts in countries with minimal accounting requirements. However, it's impossible to do without immigrating or at least spending time in the country and setting up bank accounts in person. For individuals in the "digital nomad" subculture or without physical access to the EU (e.g. developers in emerging economies), Estonia's service offering are invaluable.
The long-term value is in the platform itself and what it can provide in the future. This is a rare example of network effects in relation to government programs, as each additional e-Resident makes the platform more attractive for the private sector, equating to more services on the platform and more e-Residency applications. For example, Nasdaq recently partnered with Estonia to facilitate blockchain-based e-voting services for shareholders on the Tallinn Stock Exchange, using the e-Residency identity platform. The e-Residency platform "vastly improves the ability to authenticate shareholders for the e-voting service, while blockchain technology will allow votes to be quickly and securely recorded, streamlining a proxy voting process that has historically been labor-intensive and fragmented".3
At some point in the future, I'll provide a technical write-up of the e-Residency platform and the government's plan to move its entire digital infrastructure to the cloud, pioneering the idea of "data embassies" located in foreign countries and protected under the same treaties that regulate traditional embassies. I'll also ponder some of the political science implications of location-independent government infrastructure. Wired presents an argument that countries in waiting like Palestine could set up digital infrastructure and compete with mainstream governments, or cities could market themselves as providing more streamlined cloud computing services 4. The crypto nerd in me imagines a future where countries and cities compete to provide the best digital infrastructure, and physical borders are trivial. Already, Brexit and other displays of right-wing populism are driving demand for e-Residency.
How to Apply
The application process is straightforward: complete the application form, provide a passport photo, and pay €100. After two or three weeks, you should hear news that your application has been approved (after a background check), then the ID card will be shipped to an Estonian embassy of your choosing. After a visit to the embassy for fingerprinting, you will be a proud e-Resident of the Republic of Estonia. The whole process took me about one month and is explained in more detail on the official website.
Conclusion
I applaud Estonia's e-Residency program and look forward to the development of additional services on the platform. Though I do not have an immediate need to set up businesses or bank accounts in the Estonia, I am proud to participate in its efforts to develop the future of governance.
Coincidentally, I will be making a visit to Tallinn in July and plan to research more about the ways in which the Baltic country is leading society into the digital age. Feel free to reach out if you have any suggestions for my visit or if you have additional questions about e-Residency.
---
Want to read more?
Visually stunning overview of Estonia's programs: https://estonia.ee/overview/
An series of excellent articles in WIRED:
http://www.wired.co.uk/article/estonia-e-resident/
http://www.wired.co.uk/article/taavi-kotka-estonian-government/
Follow https://twitter.com/e_Residents for day-to-day updates on the e-Residency program, or https://twitter.com/e_estonia for a glimpse into the impressive technology programs underway in Estonia.
Footnotes/Sources:
1: https://e-estonia.com/facts/
2: https://e-estonia.com/e-residents/about/
3: http://ir.nasdaq.com/releasedetail.cfm?ReleaseID=954654
4: http://www.wired.co.uk/article/estonia-e-resident